Park cart eases visits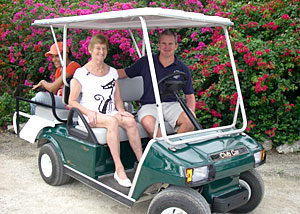 By: Carol Winker05 February, 2009
People with mobility problems are able to see attractions they would otherwise never be able to get to because one woman loves to visit the Queen Elizabeth Botanic Park.
Botanic Park general manager John Lawrus chauffeurs Ms Yolande Andrews and backseat passenger Ms Carol Harford for the golf carts inaugural ride. Photo: Carol Winker
Yolande Andrew frequently walked through the bush long before the park was developed and years before our monarch formally opened it in 1993.
Ten years on, when walking through the grounds was becoming a challenge, Ms Andrews wasn't ready to stop her visits.
'I asked if I could donate a golf cart so I and others could get around,' she explained. Park General Manager Andrew Guthrie thought it was a great idea.
Fast forward six years. The original golf cart had been through Hurricane Ivan and continued to function efficiently, but it was beginning to look a little worn. Ms Andrews decided it was time for a new golf cart. Two weeks ago, she was taken on its inaugural drive.
The cart is now available to carry other visitors.
'We are not giving a tour,' Mr. Guthrie explained. 'We are transporting people who have walking difficulties. We take them to – but not through — the Heritage and/or Colour Gardens where they can wander or sit on benches. We leave them there and usually arrange for a time to pick them up.'
The ride may also extend along the lake to the area where hundreds of palm trees are being installed. The cart can go onto the Nature Trail if the visitor requests it.
There is no extra charge for the cart accommodation over or above the regular entrance fee. Mr. Guthrie considers it a customer service and an expression of Caymanian hospitality. However, he does ask for reservations ahead of time. 'We have to take a member of staff off his regular work,' he pointed out.
The cart has been used on other occasions, deputy general manager John Lawrus added. When weddings are held in the park, not only might elderly guests be transported but also the bride in her pristine gown.
The cart has also carried visitors from The Pines Retirement Home.
Since the cart is electric, its operation is quiet and does not disturb other park visitors or the animal life encountered along the way. Its maximum speed is five miles per hour. Because of insurance restrictions, visitors may not operate the cart, which is why a staff member must be available.
The cart holds the driver and up to three passengers.
Ms Andrews loves being outdoors. Although she may visit the park only two or three times a year, she called her gift an investment to ensure her enjoyment
Mr. Guthrie called her gift a magnificent gesture.