Eco Chic Cayman's Recent Feature On The Park
Living environmentally responsible is an article that showcases the Cayman Islands' historic heritage at the Qeen Elizabeth II Botanic Park. Below is an excerpt from Eco Chic Cayman's recent feature on the Park. You can view the original article here.
SILVER THATCH:
CAYMAN'S NATIONAL TREE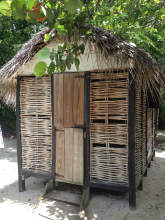 Our beautiful island that is set in the deep blue Caribbean Sea, is graced with a handful of majestic trees, such as the Cayman Logwood, Mahogany and Silver Thatch Palm.  The Silver Thatch Palm is Cayman's sacred national tree.  A unique tree which is indigenous to Cayman.  I find that there is a greater abundance of Silver Thatch on the eastern side of the island.  It is a spectacular view to see the Silver Thatch palms swaying in the refreshing sea breeze, untouched, scattered along the remote and undeveloped areas in East End and North Side.
When I hear the words Silver Thatch the first thing that comes to mind is Caymanian Heritage.  I think of the wonderful items handcrafted by Caymanians such as Silver Thatch, baskets, hats, fans and rope.   Back in the olden days Silver Thatch had two primary uses, such as: making thatch rooftops and rope.   A thatch roof would last up to 5-6 years.  There is an old folklore claiming that the thatch palms would be harvested during the night of a full moon (Cayman National Trust).   Rope making was greatly beneficial to Cayman as it was once used as a good for export providing an income for many families.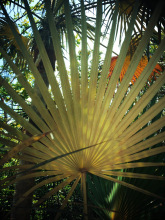 Presently, Silver Thatch is still being used to make traditional Silver Thatch baskets, hats and fans.  Generally, these items are a unique find for tourists to take home as their own little piece of Cayman.  It is good to know that our heritage holds a place in modern times.  As the generations before us found both creative and practical ways to utilize sustainable trees, and live off the land so to speak, I hope that there will be a greater emphasis on today's generation to promote and support sustainability.  I think slowly Cayman as a whole is welcoming the idea of practicing sustainability and eco friendly living.  For instance, the farmers market is widely popular, and encourages the support of our local farmers.  You find the best fruit and veggies on island at the farmers market!  Then there is Cayman Logwood Products which repurposes only fallen Logwood trees into handcrafted one of a kind art pieces for home decor.  Cayman Logwood was once harvested for its dyes and used as an export.   Overall it is wonderful to see how Cayman is embracing sustainability.
From one tree hugger to another with love, xo