Park visitors' centre renamed for Mr. Nixon


21 May, 2013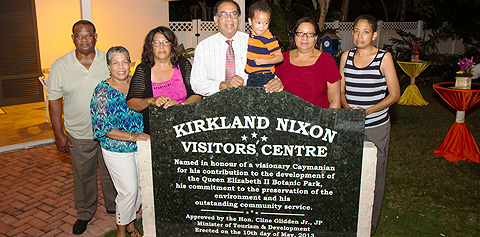 Retired civil servant and long-serving Chief Fire Officer Mr. Kirkland Nixon was honoured recently at the Queen Elizabeth Botanic Park in a ceremony that saw the Visitors' Centre renamed for him.
A large granite sign marking The Kirkland Nixon Visitors' Centre was unveiled by Mrs. Melba Nixon, wife of Mr. Nixon, and witnessed by several family members and a large group of friends, supporters and stakeholders in the tourism sector.
The renaming of the Visitors' Centre was a project proposed by Tourism Attraction Board's CEO Gilbert Connolly in December 2012, in "recognition of Mr. Nixon's connections and contributions to the Botanic Park, his involvement and contribution to the community through service on numerous Government boards and committees.
Mr. Nixon served as the first chairman of the Steering Committee that was set up in 1994 to establish the Botanic Park and as chairman of the Tourism Attraction Board since 2002.
Acting as the Master of Ceremonies for the unveiling ceremony, Mr. Connolly told the gathering that the Botanic Park has been a success story and the product of 21 years of hard work, commitment and sacrifice by several individuals.
"It is that hard work and sacrifice that we acknowledge and it gives me a tremendous sense of pride to know that we are making this effort and taking the time to honour our own Caymanians who were dedicated to the development of the Botanic Park. Mr. Nixon provided the leadership for the development of the Park from its inception," Mr. Connolly stated.
He also paid tribute to several other individuals who had been instrumental in the Park's development. Special mention was made of Consuelo Ebanks, who served on the original committee to develop the Park, and who recently passed away.
A moment of silence was observed in Ms Ebanks' honour. Also honoured were the other founding members the Botanic Park — Mrs. Karen Hunter, who served as the deputy chair and played a major role in the design of the Colour Garden, Harding Watler, Pat Ulett, Joyce Hilton, (deceased), Joseph Jackman, Theresa Leacock and Margaret Barwick.