Along the Woodland Trail lies the Blue Iguana Habitat, which is the centre for the National Trust's Blue Iguana Recovery Program.

The National Trust of the Cayman Islands began its work with these intriging creatures soon after its formation in 1987, with an ultimate repopulation goal of 1000. The Habitat has become an exceptionally popular area as the captive breeding grounds for these fascinating reptiles (Cyclura lewisi) who only two decades ago were facing extinction. Frequently found freely roaming the grounds of the Park, these "Blue dragons" delight both local and foreign visitors who happen upon them.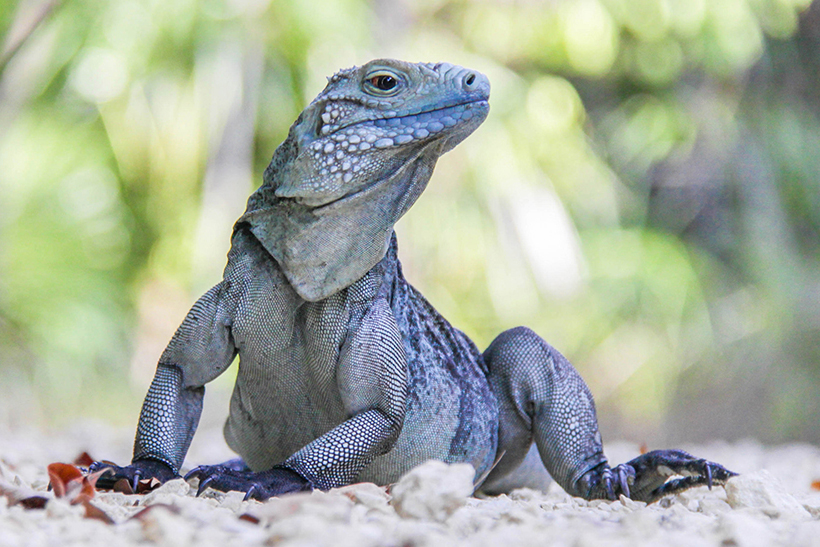 Take a behind-the-scenes tour of the National Trust's Blue Iguana Recovery Programme (B.I.R.P) facility and get up close and personal with Cayman's famous endangered 'Blue Dragon'. Your engaging guide will describe the story of how this unique iguana was brought back from the brink of extinction by the dedication of the Blue Iguana Recovery Programme employees, volunteers and donors.
Reservations are not necessary, and you can buy your tickets at the Botanic Park Visitor Centre at least 15 minutes prior to the start of the tour. The guide will meet you at the Visitor Centre reception area to begin your 45 to 60 minute tour. You will be then walked through the B.I.R.P facility to see the young hatchlings as well as the mature breeders in their enclosures. Perfect for all ages and an amazing photo opportunity of this rare and native reptile.
Ticket Prices:
Adults – KYD $20/ USD $25
Kids (6-12 yrs) – KYD $10/ USD $12.50
Kids (5 yrs and under) – Free
*Ticket price includes the guided tour of the Blue Iguana facility as well as entry in to the Botanic Park for a self-guided tour at your leisure.
For more information please contact the National Trust Office at tours@nationaltrust.org.ky, call 345.749.1121 or visit www.nationaltrust.org.ky/blue-iguana-safari