Chelsea Flower Show a triumph for Cayman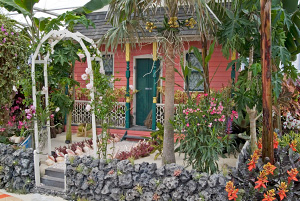 27 May, 2008
As Chelsea Flower Show week draws to a close in London this week, the Department of Tourism declared the show a major success for the destination, which exhibited this year for the first time.
The Chelsea Flower Show exhibit Photo: Submitted
The Heritage Garden, created by the Queen Elizabeth II Botanic Park in association with Newington Nurseries, was awarded a silver medal by the judges and proved to be one of the show's major attractions for both media and visitors, said a press release from DoT.
Don McDougall, the DoT's regional manager, Europe said: 'Everyone in the Cayman Islands should be extraordinarily proud of the country's achievements here this year. We know that it is highly unusual for a first-time exhibit to be awarded a top award, but above and beyond that accolade, the profile and publicity has been second to none.
'The demographics of visitors to the Chelsea Flower Show are a perfect match with Cayman's target visitor – we even had one lady coming to our garden to tell us that she loves the Cayman Islands so much that she has visited 13 times'.
The Independent newspaper selected the Heritage Garden as one of just six in their feature entitled 'Pick of the Bunch'. The Telegraph newspaper, with a circulation of over one million, chose the Cayman Islands' garden as one of just three featured in their Chelsea Flower Show's special supplement on small gardens.
Mr. McDougall said, 'With the total media coverage across national print media, online, national radio and television throughout the week, not to mention regionally, I think it is probably fair to say that the Cayman Islands' Heritage Garden took the lion's share of the coverage for any one individual garden. We cannot even begin to put a value on the positive publicity we received, although a full report will be made available shortly'.
As late as yesterday lunchtime, the UK's top celebrity gardener and author Alan Titchmarsh recorded further commentary from the Heritage Garden for the BBC's coverage.
This was broadcast on prime time television, making it at least the fourth major television appearance by the Cayman Islands' garden broadcast during the week.
Minister of Tourism Charles Clifford was interviewed shortly after he was filmed meeting Her Majesty the Queen on Monday. Footage and still photography is being made available for use after the show.
Mr. McDougall thanked everyone who had helped pull the entire project together in less than five months.