The Heritage Garden is intended to showcase the plants that played an important role
in Cayman's history.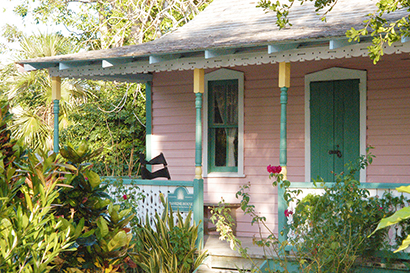 The displays include grounds, or areas where root crops and vegetables would be cultivated; the economically important Silver Thatch Palm / Coccothrinax proctorii; and the medicinal garden with the types of plants Caymanians used to treat various ailments. In the heritage vein, an old Caymanian house, circa 1900, owned by Julius Rankine from East End, Grand Cayman, was brought to the Park and restored, and a sand garden was developed around the house showing the traditional ornamental plants of that setting.  There is also a collection of the traditional fruit trees.
Sand Yards
Traditionally found surrounding a Caymanian Cottage was a sand yard which consisted of white sand neatly placed around various individual plants.  The yards were traditionally adorned with conch shells and white fences.  The conch shells were also featured as a formal element, lining a smooth beach rock path way marking the entrance to the house.  The tradition of "backing sand " usually occurred just prior to Christmas to keep the sand yards looking their best over the festive season.  Although their numbers are slowly decreasing, there are sand gardens still around in most districts of the Cayman Islands.
Click here for printable map of The Heritage Garden