Along the Woodland Trail lies the Blue Iguana Habitat, which is the centre for the National Trust's Blue Iguana Recovery Program.

The National Trust of the Cayman Islands began its work with these intriging creatures soon after its formation in 1987, with an ultimate repopulation goal of 1000. The Habitat has become an exceptionally popular area as the captive breeding grounds for these fascinating reptiles (Cyclura lewisi) who only two decades ago were facing extinction. Frequently found freely roaming the grounds of the Park, these "Blue dragons" delight both local and foreign visitors who happen upon them.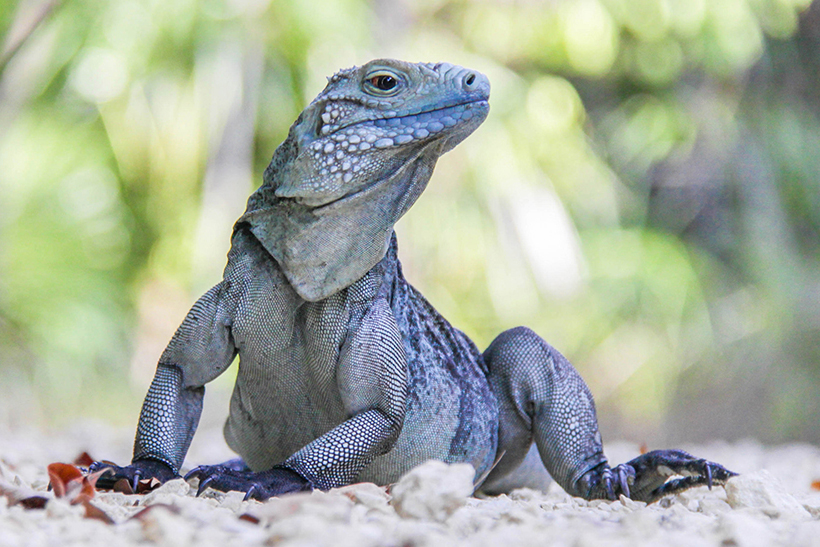 Blue Iguana in the News September 14th 2006
Blue iguanas' birth landmark event; By Carol Winker, carol@cfp.ky 2006 Blue makes full recovery; By Joanna Lewis, joanna@cfp.ky 2006

Blues edge closer to 1,000 target June 13 2013
Blue iguanas were removed from the IUCN Red List's critically endangered category last year. Now they're classified as an endangered species. By Norma Connolly CayCompass July 1st. 

More blues join brethren in the wild September 4th 2013
More than four dozen Blue Iguanas were recently released into the wild. By Sean K. Bent CayCompass September 4th 2013
Blue iguana expert nominated for prestigious award August 29, 2013
In recognition of his efforts in successfully bringing back Grand Cayman's blue iguana from the brink of extinction, Fred Burton (left) has been included on a list of thirty-nine of the world's foremost conservationists who have been nominated to receive the biennial Indianapolis Prize, the world's leading award for animal conservation.