The Queen Elizabeth II Botanic Park is home to ten of the twenty-eight orchid species recorded from the Cayman Islands, and four of these are endemic (found nowhere else on earth).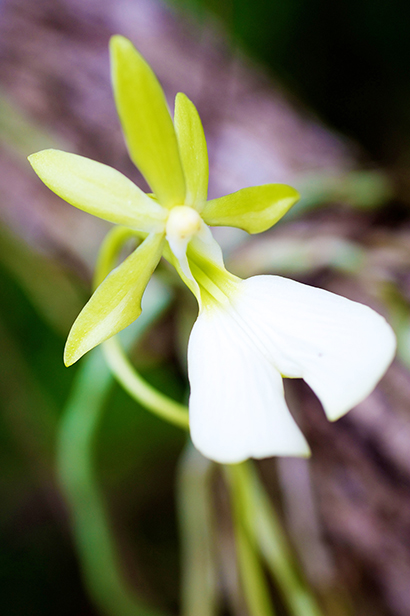 The Orchid boardwalk features our  local orchids and more. During summer period, visitors to the Botanic Park can see our Cayman's National Flower; the Wild Banana Orchid / Myrmecophila thomsoniana var. thomsoniana is abundant in all natural areas of Grand Cayman. Other native orchids include: Pleurothallis caymanensis, Encyclia boothiana, Dendrophylax fawcettii, Tolumnia variegata, Prescottia oligantha, Prosthechea cochleata, Cyclopogon elatus, and Oeceoclades maculata.
The Annual Orchid Show promotes the conservation of Cayman's native orchids. The event has also become an occasion for educating gardeners on the techniques of growing orchids.
The proceeds from the Show will go toward the establishment of an orchid garden in the Botanic Park.
Below is Dr. George Proctor's list of orchids found on all three Cayman Islands; GC, CB, LC
Beloglottis costaricensis GC
Bletia florida GC
Brassavola nodosa GC
Cyclopogon cranichoides . GC
Cyclopogon elatus GC
Cyrtopodium punctatum GC
Dendrophylax fawcettii / Ghost Orchid Endemic GC
Dendrophylax porrectus GC
Eltroplectris calcarata GC
Encyclia kingsii Endemic LC
Encyclia phoenicia / Chocolate Orchid CB LC
Epidendrum nocturnum GC
Epidendrum rigidum LC GC
Ionopsis utricliuoides GC
Myrmecophila thomsoniana var. minor / Wild Banana Orchid Endemic CB LC
Myrmecophila thomsoniana var. thomsoniana / Wild Banana Orchid Endemic GC
Oeceoclades maculata GC
Pleurothallis caymanensis GC
Polystachya concreta LC
Prescottia oligantha GC
Prosthechea boothiana / Dollar orchid GC
Prosthechea cochleata CB
Sacoila lanceolata GC
Tolumnia calochila GC
Tolumnia variegata syn.T. caymanense Syn.Oncidium caymanense GC
Triphora gentianoides GC
Tropidia polystachya add (Sterile specimen only) GC
Vanilla claviculata GC