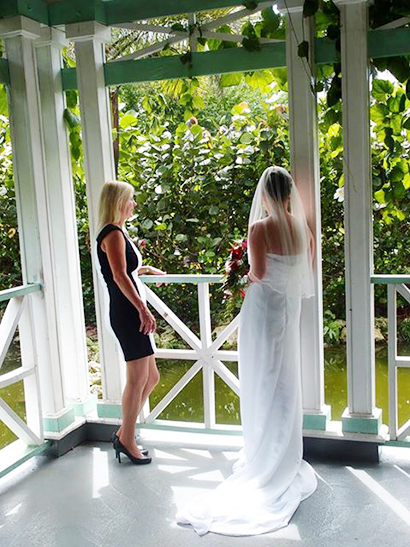 The Queen Elizabeth II Botanic Park has hosted many weddings over the years. Whether you choose to say your vows within a floral festooned gazebo, under a star-flower trellis, on the verandah of the Heritage House, or in the surroundings of a beautiful tropical garden, the Botanic Park will provide the perfect setting to make your wedding or reception unique and unforgettable. Fill your wedding album with endless photo opportunities. A seasonal two-acre lake offers a shimmering backdrop for your festivities. If you prefer a nostalgic setting, the Heritage Garden features a quaint Caymanian cottage with an authentic sand garden. With 65 acres of natural beauty, the Botanic park offers a dazzling array of ever-changing colors, sights, and scents to transform your wedding into a truly magical scene. Choose from lush alcoves for intimate gatherings or manicured lawns that can comfortably accommodate as many as 150 people.
Facilities at the Park include:
Full access to the Visitors Centre air-conditioned conference room where the bridal party can wait for the ceremony to begin.
Operation of the EZ-Go vehicle to provide transport within the Park for the bridal party, VIPs, and elderly.
Catering suggestions are available for receptions and events.
Please Note:
The Park remains open to the general public between 9 a.m. and 5:30 p.m. daily.
Evening weddings are accommodated from 5 p.m. until midnight.Wedding Fees:
(All prices are in Cayman Dollars.)
Daytime Site Rental (9 a.m. to 5 p.m.): $235.00 per hour
Evening Site Rental (5 p.m. to Midnight): $300.00 per hour
Evening reception fees, due to extra staffing requirements:

Add $100 per hour to the evening site rental hourly fee
A 50% deposit will be required upon confirmation of the reservation. (Local residents: Please call for discount information.)
For further information, please contact:
manager@botanic-park.ky
Tel: (345) 947-9462
Fax: (345) 947-7873