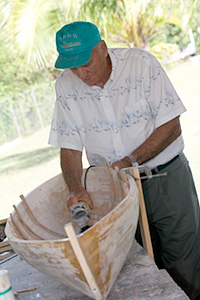 By: Simon Boxall20 February, 2008
Plant lovers in the United Kingdom may soon get a first hand look at Cayman Islands traditional sailing vessel the catboat. Mr. Kem Jackson of the Cayman Maritime Heritage Foundation has been building a six foot replica that will form part of a display of Cayman plants that will head over to London for one of the most prestigious flower shows in the world.
Kem Jackson works on the 6 foot model of a Catboat which will form part of a display of traditional Cayman Islands Plants at the Chelsea Flower Show. Photo: Stephen Clarke
John Lawrus of the Queen Elizabeth 2nd Botanic Park has been tasked with designing and setting up the exhibit. 'The Chelsea Garden Show is probably the biggest, if not the most well-known garden show in the world. It is highly prestigious and is visited by approximately 160 thousand people over a period of five days.'
Kem Jackson has played a key role in preventing the historic sailing vessel from going extinct. Over the years he has painstakingly restored a number of old boats that were recovered from yards, sheds and some that were lying abandoned in the bushes in various locations around the Island.
At one time the catboat was perhaps the most widely used method of transport and played a key role in the turtle fishing industry. Turtle hunting was the mainstay of the Cayman economy for hundreds of years and for part of that time, the catboat was the 'work horse' that was used for clearing and setting the nets.
Discussing the model he is building for the Chelsea Flower Show, Kem Jackson explained that the easiest part is now done and the hard part is coming. 'The main body of the hull is built, but I've got to put the rails around it, what they call the gunnel, the rippling piece and the step for the mast. I also have to build the seats and I plan to include the paddles (oars) and a water glass (a box that can be used for examining the underwater environment) and a striker (a ten foot long pole with two points, often used for picking up conch shells from the sea bed).'
John Lawrus outlined that the display will focus on the theme of a traditional Cayman sand garden. 'I thought it was really important to incorporate the maritime heritage and we are also including the façade of a traditional Caymanian house, with a pathway lined with conch shells. The display of plants and flowers will cover a total area of 16 by 12 feet and the whole lot will be air freighted to London by British Airways.'
The Chelsea Flower Show begins on May 20th and runs through to the 24th.
'We were fortunate to be included. You typically have to compete in numerous smaller events before you can be deemed worthy of a place in the Chelsea Flower Show. It is highly competitive; somehow the Department of Tourism London Office secured a place for the Cayman Islands at the show.'